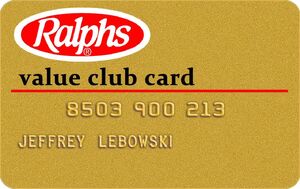 Ralphs is a popular grocery chain in southern California.
Ralphs is where The Dude gets most of his drinking supplies. The Ralphs card is the only form of identification the Dude carries with him. This is also where Walter buy's a receptacle for Donny's ashes.
The grocery chain was purchased in 1994 by Yucaipa Companies. Yucaipa sold the chain to Fred Meyer in 1997, and in 1998 Fred Meyer merged with Kroger's. Today Ralphs is the largest subsidary of Kroger's.